Check out our recent episodes below!
David talks with Lamar Hunt, Jr.
David talks with Caroline Yerkes and Episcopal Youth Counselor
David talks with David Burns about his life journey
David discusses how to deal with difficult relationships
David compares alternative energy sources and how soil remineralization is the best option
David discusses the eternal battle of Good vs Evil
David encourages you to get involved in your community!
Remineralize the Earth! Learn about how to get started
David discusses Soil Remineralization and it's importance
David emphasizes the importance of remineralization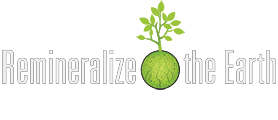 David discusses the importance of the remineralization of the Earth's soil, and how this can greatly impact not only the quality of life on Earth but help to decrease the levels of CO2 associated with global warming. The effects of remineralizing the Earth's soil, especially in farming lands, can increase the nutritional benefits of the food grown while also positively impacting the entire ecosystem.
For a full list of organizations that are helping make the world a better place click the button below!
A few of the organizations making the world a better place
Get Real- A Positive Solution to Climate Change
Going Carbon-Negative
The most relative climate myths are debunked, in addition to the most relative climate myths that are spread as factual by many climate activists